MuscleSport
Rhino BLACK V2 - High Performance & Stim Preworkout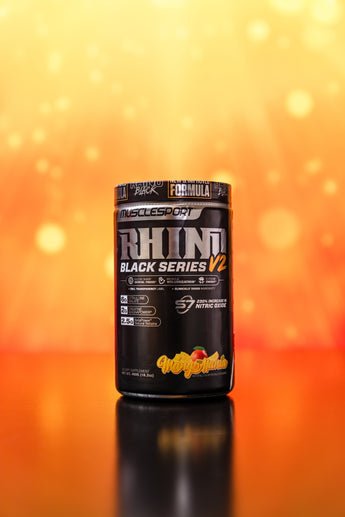 THE BEST! UPGRADED.
Maximum Strength Pre-Workout*
Improve Energy & Focus*
Flood Muscles with Nutrients*
Train Harder, Longer*
5 Premium Ingredients*



Discover the Power of Rhino Black V2
What's the primary ingredient for everything you've ever wanted? Change. Perfection is an evolution, and just like the original Rhino BLACK, Rhino BLACK Preworkout is here to turn your workout intensity up.
Rhino BLACK's 3 complexes were upgraded; they're still the key to training session success – Pump, Cellular Energy, & Focus. Advancements in ingredient science have brought us to new heights.
S7™ 
GlycerSize™ 
BetaPOWER® 
Theobromine 
Keep what works, and add what works better. Rhino BLACK V2 goes for the win, just like you.
Frequently Asked Questions
Q: I was a BIG Rhino BLACK fan. Will I like Rhino BLACK V2?

A: No… You will LOVE Rhino BLACK V2! We kept everything we loved about Rhino BLACK, added a few things we came to like more, and brought that to life as V2!
Q: What is the best way to take Rhino BLACK V2?

A: Mix one scoop of Rhino BLACK V2 into 16-20 ounces of water and consume 30 minutes prior to training.
Q: What other MuscleSport products do you recommend stacking with Rhino BLACK V2?